Here at I&E, we'll often get calls from people who are already committed to the idea of implementing the Infinite Banking Concept® (IBC) in their life, but they're just not sure how to go about getting it done.
In most cases…
The problem is that most people haven't met the "right" insurance expert to help them get started, or they just haven't been able to determine which life insurance company is going to be the best for them.
You see…
If you're looking for an insurance company in order to practice the Infinite Banking Concept® (IBC), then you'll want to begin your search by first seeking out those insurance companies that offer dividend paying whole life insurance.
This is because…
IBC, also known as Becoming Your Own Banker©, Bank On Yourself© and a few other terms, uses this specific type of policy from the best mutual whole life insurance companies to create a "personal banking system" whereby the owners of these policies can use their cash value as collateral to fund purchases and transactions that would typically be funded by a regular bank.
By eliminating the banks from the equation and funding all your purchases through your Whole Life Insurance Infinite Banking policy, you transfer the interest paid to banks into your own account.
In essence you accelerate your own cash value accounts and recapture your own interest.
Now at this point…
Nothing that we've mentioned should seem "foreign" or "strange" to you because we're assuming that you're already familiar with the concept of Infinite Banking.
(But if you're not, or you'd like a moment to "freshen up" on the idea, we would certainly recommend that you take a look at our article Infinite Banking Pros and Cons were we discuss this topic in much greater detail.)
Now, in this article we are going to do our best to provide you with 10 solid and highly rated life insurance companies that offer cash value life insurance.
Truth be told, the best life insurance companies actually offer much more.
You see, the best infinite banking whole life insurance companies to use provide riders and policies that are ideal for IBC use and also have a proven track record of long-term success and stability.
Some of these companies actually train their agents and home office staff in the Nelson Nash method (Mr. Nash is the creator of the Infinite Banking Concept),  in order to provide clients with a greater understanding of how to create wealth beyond the confines of Wall St.
IBC Webinars
And in terms of education, we at I&E recommend you check out the following webinars to help you get better acquainted with IBC and learn why so many people are becoming their own banker.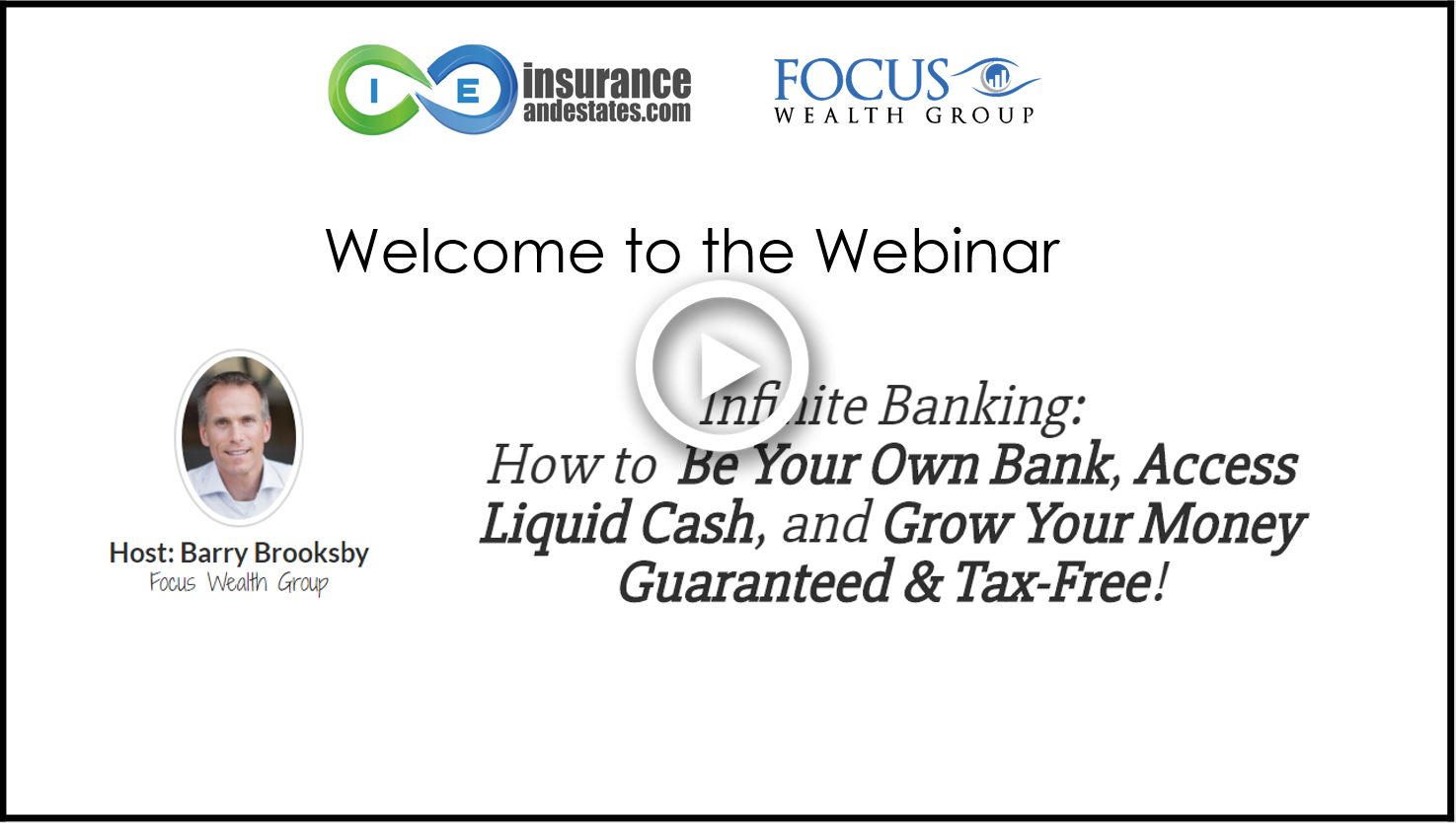 For more education and insight, there are additional webinars under our "resources" tab. Now, on to our criteria in deciding who to list as our top companies.
Top 10 Best IBC Companies Criteria
Before we jump right into the companies themselves, let's look at our reasoning behind the top 10 list. We have certain criteria for Infinite Banking and we want to share it with you.
Keep in mind that ultimately the success or failure of a given methodology will come down to execution. You can have the perfect product, but if you fail to implement it, you won't see the results you anticipated.
In other words, the best microphone in the world can't make you into a phenomenal singer. It takes diligent, disciplined practice to get good at something.
Having said all that, it is important to note that there are companies out there that are not ideal for Infinite Banking, so it pays to know who is and who is not.
Do you recommend IULs for IBC?
This is a great question and it is difficult to answer because the answer ultimately depends on the client. Most people looking into infinite banking have read Nash's book and prefer whole life for IBC.
But there are people who are not "purists" when it comes to IBC and they want to see what the best company will be, whether it is whole life or indexed universal life.
Often we will still recommend whole life for the unique benefits it offers vs IULs, such as fixed costs and guaranteed growth.
However, it is certainly possible that the long term growth of indexed universal life could be superior to whole life.
In the end, it really comes down to each individual's preference. And the good news is many of the companies listed here in our top 10 also offer excellent indexed universal life insurance policies.
Simply a Guide
And finally, we want to say that this list is to be used only as a guide, and ideally only as a starting point in conversing with a qualified representative that is familiar with these companies and the concept.
Life insurance requires underwriting, which means that not all people are treated the same.
For example, if you're a smoker or have a history of cancer in your family, you will have less options than those with ideal health.
So even though we provide this list as our top 10 companies for Infinite Banking, we know that your top 10 companies may differ because of your unique situation.
Needless to say, our top 10 companies all provide cash value life insurance, and they also provide policies that are meant to maximize cash value growth and accumulation.
Ultimately we hope this guide provides a glimpse of what to look for when shopping for an Infinite Banking policy.
Criteria 1 – Mutual Company vs. Stock Company
According to Kiplinger's Personal Finance Magazine, when searching for cash value life insurance, "a mutual company is your best bet."
The reason that a mutual life insurance company is ideal verses a stock company is that the policy holder is a "member" in a mutual company. The member is one who "participates" in the insurance company's investment gains.
As a participant, the policy holder in a mutual company receives "dividends" on the cash value of their policy. The dividends are considered a return of premium, not income – so they are tax free.
Just to be clear, the dividend is considered a return of overpaid premium (this is the profit the company made throughout the year, it goes back to the policy holder). In a stock company much of the profits would go to the share holders, not the policy holders.
In addition, mutual life insurance companies tend to focus on long-term growth and stability.
In contrast, stock companies must appease long term policyholders and meet the short term goals of stockholders, creating somewhat of a conflict of interest.
Due to these key advantages, we tend to prefer mutual companies in our top 10 Infinite Banking insurance companies.
One of the criticisms of mutual life insurance company dividends is that the "overpaid premium" essentially means that they charged you too much during the year. Critics will suggest getting a policy from a stock company because they don't "overcharge."

We believe this criticism fails the test upon implementation because stock companies are not noticeably cheaper on average than mutual companies – their premiums are roughly the same, but the profit (the amount above the cost) goes to stock holders instead of going to policy holders in the form of dividends.
One More Thing
Another reason why a mutual life insurance company is ideal for our purposes is because excess profits are NOT used for purposes that do not benefit the policy holders – for things like large executive bonuses.
The largest mutual life insurers have an AA+ rating. In contrast, the largest stock (i.e. public) companies have ratings that are two tiers lower with an AA- rating.
From 2008 to 2014, publicly traded insurers increased life insurance assets 1.9% a year on average, while during the same time frame mutual life insurers averaged 6.6%. Source.
Criteria 2 – Performance History
(cash value accumulation, loan rates, dividend payments)
Whole life cash value growth is essential to the Infinite Banking Concept because the cash value is the pool of money that provides the funding for all your banking needs. Without a substantial cash pool the banking options are seriously limited.
Participating Life Insurance
As always, we emphasize that the dividends are NOT guaranteed, and this fact is trumpeted often by the critics of whole life insurance.
While it may be true that the dividends are not guaranteed, based upon history, our selected participating whole life insurance companies for infinite banking have a solid track record of continuing to pay dividends through all kinds of economic conditions and cycles, including the Great Depression and Great Recession.
Our top 10 Infinite Banking life insurance companies have a solid track record for paying dividends, as we believe that this is key to providing a reliable expectation for enhanced cash value growth.
Loan Rates
Loan rates are another key factor in the infinite banking approach.
You see, when designing an infinite banking whole life insurance policy, the cost of loans verses ongoing dividend rates is a key emphasis because the goal is often to keep a desirable "arbitrage".
We aim to focus on the top whole life insurance companies for building cash value with ongoing cash value growth regardless of life insurance loans because this allows for leverage and multiple levels of wealth building. So a company's history of loan interest rates is important.
Criteria 3 – Stability
(company history, reliability)
Our top 10 Infinite Banking life insurance companies have a solid track record for stability as we believe this is essential to building your own bank and funding your banking needs.
So we're only focusing on well established mutual whole life insurance companies with solid financial strength and a top credit rating.
We used A.M. Best rating as a benchmark when comparing these companies. In addition we referenced Standard & Poor's, to gain some additional insight.
Criteria 4 – Flexibility
(products, design, convertibility, options for paid up additions)
Simply put, some companies are more flexible than others when it comes to premium design AND "paid up additions" (which is adding cash value to your policy) and structuring a policy that suits your goals.
For our purposes, flexibility refers to both the availability of various products, flexibility in allowing for paid up additions AND other ways of accommodating those seeking to maximize cash value accumulation.
Flexibility is critical for those that are interested in Infinite Banking because there are a variety of strategies for maximizing growth and funding your banking needs.
Some companies offer one way to bank via your policy, so the agents may tell you that it's "perfect" for Infinite Banking. But in reality, they are forcing you to bank in a confined space – something that might be a serious hindrance down the road.
Criteria 5 – Overall Suitability
(for strategic purposes, infinite banking, conduit wealth building)
The suitability of a given company for Infinite Banking is based on the criteria mentioned above as well as the training and education of the agents and home office.
Companies that have been given training in the banking concepts are easier to communicate with when you're attempting something you haven't done before in the banking sphere.
Finally, it is also worth mentioning that our top Infinite Banking companies are all licensed to offer its whole life insurance policies in at least 40 of the 50 states.
A Few Notes on Direct vs. Non-Direct Recognition
This distinction refers to whether policy loans will negatively impact the dividend rate paid on the policy cash value.

Obviously taking policy loans are a major aspect of the policy growth in the infinite banking world.

It simply means that the policy will continue to perform normally. This includes the payment of dividends at FULL rates, regardless of the amount of policy loans owed.
Although non-direct recognition companies tend to hold great reverence in the Infinite Banking world as opposed to direct recognition companies, we've found that many direct recognition companies have a record of solid performance EVEN where Infinite Banking strategies are used.
Please note, although we list the companies based on our rankings below, the brief review of each company that follows is in alphabetical order.
So, without further delay, our top 10 Infinite Banking life insurance companies are:
Top 10 Infinite Banking Life Insurance Companies
(Our top 10 companies are above but they appear below in alphabetical order)
Ameritas
Ameritas has been around since 1887, making the company over 134 years old. .
Ameritas is a financially strong company and maintains an A rating with A.M. Best.
The company practices direct recognition, and has a long history of paying dividends to eligible policyholders.
Ameritas Growth Whole Life is limited pay life insurance that allows the policy to be fully funded in 10 years. You can add a flexible paid up rider to rapidly increase cash value growth.
And like many of the companies in this list, the whole life policy also has living benefits that allows you to access a portion of your policy's death benefit for terminal, chronic or critical illness.
For more on this member of our top 10 Infinite Banking insurance companies, please stop by our Ameritas Life Insurance review.
Foresters
Foresters Financial offers one of the only participating no medical exam whole life insurance policies in the industry. You can get up to $400,000 20-Pay or Paid-Up at 100 whole life insurance without an exam.
Foresters Financial is proud of their A rating with A.M. Best and they are an innovator in the world of life insurance underwriting. With a guaranteed insurability rider option, we recommend considering this option while shopping for a company.
Foresters has a strong dividend history. The dividend interest rate has remained above 6% for the past 13 years (8.6% dividend in 2005), and was at 6.2% for 2016.
For more on this member of our top 10 Infinite Banking life insurance companies, please stop by our Foresters Financial review.
Guardian
Guardian is a top rated company (A++ superior Best, AA+ – second highest among 22 ratings by S&P), and also direct recognition, but one that is committed to the concept of treating whole life insurance as an asset.
They promote a type of Infinite Banking strategy among their agents. And even though they are a direct recognition company, it hasn't negatively impacted policy performance in most cases.
When it comes to accumulating cash value, Guardian's 10 pay limited pay life insurance product, when structured properly, is apparently their strongest offering (blended with paid up additions).
One word of caution, watch their career agents closely if you choose to work with them. The career agents have a tendency to prefer the less advantageous Guardian L-99 product.
It is worth pointing out that Guardian also has excellent customer service ratings. They also get extra marks for flexibility due to the variety of options for premium payment models.
The Guardian's 2020 dividend interest rate is 5.65%. For more on this member of our top 10 Infinite Banking insurance companies, please check out our Guardian Life review.
Lafayette Life
Lafayette Life is a non-direct recognition company that has captured a good segment of the infinite banking zealots.
We believe this company's popularity stems from its non-direct recognition status, sound business rating (A+ Best, AA second highest rating out of 22 by S&P) and excellent track record.
Standard & Poor's gave the following as a reason for their rating:
Very strong financial security characteristics
For us, this company doesn't stand out with any specific product or service offering, we're somewhat neutral. Lafayette Life's dividend rate was unchanged at 5.10% for 2016.
For more on this member of our top 10 Infinite Banking insurance companies, please stop by our Lafayette Life review.
Mutual
We are naming this company simply "Mutual" as they shy away from being associated with the infinite banking concept because there are people out there that try and pitch infinite banking without talking about life insurance.
Mutual  is a juggernaut in the whole life insurance market and sits among the top choices for all kinds of reasons which include cash value accumulation and wealth building.
Mutual is a mutual company that is continuously among the top performers in the critical category of the history of payment of dividends.
They offer an excellent model for paid up additions and their 10 pay product is tremendously effective at maximizing cash value growth.
Mutual has won the coveted A.M. Best rating of A++ Superior, and a AA+ rating from S&P, and makes the cut as an overall suitable whole life insurance product for anything from wealth building to obtaining a permanent death benefit for family security.
Mutual Trust Life
Mutual Trust Life Insurance, aka MTL Insurance Company, aka Mutual Trust Financial Group, aka "The Whole Life Company"®, was founded in 1904 as a mutual insurance company.
In 2015, Mutual Trust became part of Pan American Life Insurance Group, which deals in insurance and financial services.
MTL knows IBC, having designed a proprietary dividend option geared towards the idea of maximum cash value accumulation.
The Maximum Accumulation Dividend® option works in tandem with the Flex Pay Paid-Up Additions Rider or Annual Premium Paid-Up Additional Insurance Rider, providing maximum cash value accumulation on a continual basis, while avoiding a modified endowment contract.
We at I&E believe this is a great company. However, if we had one negative to speak of it would be the lower ratings it has received in contrast to its peers. MTL has a Comdex ranking of 78, which reflects a lower overall financial rating vs the competition. As of January 2020, MTL has an A rating from A.M. Best and an A rating from Fitch.
For more on this member of our top IBC companies list, please visit our Mutual Trust Life Insurance review.
National Life Group
With an A.M. Best rating of A, an A+ for S&P and a Comdex ranking of 80, National Life Group (NLG), aka National Life VT, aka Life Insurance of the Southwest, is a mutual insurance company offering competitive dividends among its peers.
Accelerated benefits for both chronic illness and terminal illness are available.
For more on this member of our top 10 Infinite Banking insurance companies, please check out our review of National Life Group review.
OneAmerica
One America is a good mutual company (A+ rating with A.M. Best) and also made our top 10 list because it is a "non-direct recognition" company that offers tremendous flexibility with its paid up additions rider option for their whole life policy. One America offers whole life insurance through American United Life, "AUL."
OneAmerica offers what is called a declining paid up additions load. This just means that folks can slowly decrease the amount of paid up additions being paid. However, this can come back to haunt you if people decrease the paid up addition too much. By doing so, it can undermine their strategy for growing the cash value.
Indexed Dividend Crediting Option (IDO) Rider – Legacy and Legacy 121 policyholders can participate in market moves earning up to double their dividend, without sacrificing whole life guarantees.
For more on this member of our top 10 Infinite Banking insurance companies, please check out our OneAmerica review
Penn Mutual
PennMutual is another excellent mutual company (A+ by A.M. Best) and gets very high marks in a number of areas.
Penn Mutual's Standard & Poor's rating is A+, which is the fifth highest of 21, and they highlighted the following reasons for their rating:
Very strong financial risk profile
Very strong capital adequacy
Strong business profile
They are a direct recognition company, and yet their track record of policy performance for cash accumulation is exceptional.
They ALSO score among the highest on our list for flexibility in paid up additions payment options.
Another exciting thing about this company is that their sales data reveals a large following of independent brokers. This is in contrast to some of our other choices who operate largely through a captive sales force.
Penn Mutual's dividend rate has stayed level or increased every year since the 2008 financial crisis.
For 2020, Penn Mutual is expected to payout a dividend of $100 million with a dividend rate of 6.10%.
For more on this member of our top 10 Infinite Banking life insurance companies, please check out Penn Mutual review.
Security Mutual Life
Security Mutual Life is a non-direct recognition company that offers participating whole life insurance focused on personal banking strategies, such as the infinite banking concept.
SML has an A- rating from A.M. Best, which is the 4th highest rating of 15 offered by Best Company.
Security Mutual Life offers four different types of whole life insurance policies as part of its Security Designer WL4U product line, which include:
WL4U LP121
WL4U LP100
WL4U LP65
WL4U 10Pay
The most popular product for personal banking is the WL4U LP 100. This is a whole life insurance policy that is payable to age 100. Among the many riders offered are a Chronic Illness Benefit, Enhanced Paid-Up Additions rider, and a 5-year Own Occupation Disability Waiver of Premium rider.
For more on this top infinite banking company, please see our Security Mutual Life review.
Whose Missing?
Ohio National
Ohio National was once a part of our top 10 but it is no longer a solid mutual company that we would recommend when practicing infinite banking. Although it gained high recognition as a strong contender for offering policies that foster cash accumulation, due to the company "de-mutualizing" we can no longer offer it as an option in good faith.
And although it is a non-direct recognition company, recently they've been edged out by our other choices for a few additional reasons. They seem to lack some flexibility for paid up additions.
Another apparent issue is that, similar to Guardian, many of the agents promote certain whole life products that may not be ideal for cash accumulation as some of their other products.
For more, please visit our Ohio National review.
Conclusion
So there you have it, our Top 10 Infinite Banking insurance companies. Our sincere hope is to help provide information that guides and instructs consumers in acquiring their financial needs and desires.
The real trick however…
Will be to find an veteran life insurance agent who is not only experienced in helping folks qualify for these types of life insurance policies, but is also patient enough make sure that all of your questions are answered well before you decide to apply for coverage.
The good news is…
That we have a great team of life insurance agents just like this waiting for you to give us a call.  So, what are you waiting for, give us a call today and experience the I&E difference!