In this article, we here at I&E wanted to take a moment and discuss how purchasing a life insurance policy for your child can actually be one of the best decisions you can make for him or her and their financial future, provided that you decide to purchase the "right" kind of life insurance.
Most the time, when someone purchases a life insurance policy for a child, its so there will be a death benefit in place if heaven forbid anything were to happen to the child.
And this probably isn't all that bad of a decision, but given the fact that there is so much more that can be done for your child by purchasing the "right" kind of life insurance for him or her, it seems silly to invest the time and energy to simply purchase a small life insurance policy on your child that he or she will probably never need, particularly as they get older.
So, with this in mind, let's take a closer look into why it might be a good idea to purchase a life insurance policy on your child and how in doing so, you could actually be starting his or her journey towards financial independence.
Here is the basic premise of this article: life insurance for children is not so much about a death benefit as it is about properly designed cash value life insurance policies which creates incredible LIVING benefits presently and down the road for your child.
(Yes, there is also a death benefit, but that is not the primary reason to get life insurance for kids.)
We are talking about financial benefits that are brought about with strategically structured dividend paying whole life insurance from a mutual insurance company.
Have we got your attention? We hope so.
Please read on as we make our case for getting life insurance for children.
Best life insurance policy for children



Let's clear the air real quick. We are not advocating that you should consider child life insurance for the standard reasons that most people believe.
You see, most people fail to understand the benefits of whole life insurance policies when used as a strategic wealth building tool and get fixated on the wrong things.
What Life Insurance for Children is Not
Let's start by clarifying that the child life insurance policies we are advocating is not for the death benefit. If tragedy strikes and your child dies prematurely, the death benefit may help your properly grieve by providing needed support and eliminating distractions.
However, the death benefit is NOT why we are advocating life insurance coverage for your child.
Whole life insurance Policy for children
Have you ever heard the phrase, "It's in the name"? Well, when it comes to a properly structured participating whole life insurance, it definitely is in the name.
Let's break it down-
Whole Life: Yes, this refers to the duration of the policy. It will last your child's whole life. However, it also refers to a deeper level of understanding, in that it will also contribute to a WHOLE life.
That is, whole life insurance will help create a richer, fuller, more holistic life.
Whole Life Insurance Quotes for Children
Below are sample whole life insurance quotes for kids. The whole life insurance rates are for informational purposes and must be qualified for.
| Age | $25,000 | $50,000 | $100,000 | $250,000 |
| --- | --- | --- | --- | --- |
| 1 | $17 | $28 | $43 | $85 |
| 5 | $20 | $34 | $47 | $96 |
| 10 | $21 | $38 | $55 | $116 |
| 15 | $24 | $44 | $71 | $145 |
Whole Life Insurance Rates for Children

In this first example illustration provided from an A+ rated carrier, we will be looking at how much $6,000 total premiums would generate over the first 30 years on a 10 pay whole life policy that the owner can continue to make base premium payments on after the initial 10 years.
We chose $6,000 annual premiums for a reason as a parent might be able to hire a child age 12 (age 14 in most states) and pay him or her an income without incurring a tax liability.
Under current tax law a parent can pay a child up to $12,200 income tax free earnings (lowest tax bracket). Please consult with your tax advisor for your specific situation.
So, for those of you who are entrepreneurs, you can employ your child age 12 in some states and age 14 in most. Your child earns $12,200 income tax free. You get the write off (win-win). You can then place that income into a whole life insurance policy for your child. Down the road, your child can access the cash value income tax free via a life insurance loan. So, your child may never be taxed on that money.
After 10 years, the dividend paid to the children's life insurance policy should be more than enough to cover any premium due.
And here is a whole life illustration for a child. This is a properly designed 10 pay whole life policy for a 4 yo boy with a guaranteed insurability rider with an A+ rated carrier focused on cash value growth.
The starting face amount is $800,000 on an annual premium of $9,355 a year for 10 years, at which point no more premiums are due.
The policy ends at age 121, at which point the non-guaranteed totals equal over $21,000,000 for the cash value and death benefit.

Ages 5-30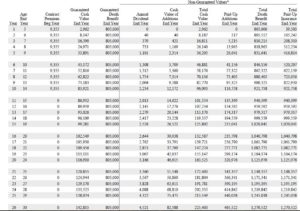 Ages 35-59
Ages 66-90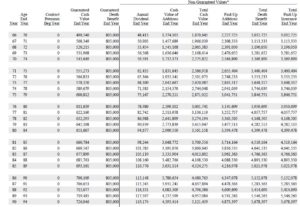 Whole life insurance for Kids

We work with many of the best companies in the marketplace. However, when we at I&E talk about the best whole life insurance for kids, we are talking about a policy that is designed to act as a banking policy utilizing the concept of infinite banking.
When using whole life as a banking policy AND utilizing the infinite banking concept®, the policy becomes a wealth building storehouse.
Thanks to compound interest, the cash value in the policy continues to grow and grow, regardless if you choose to borrow against the cash value.
You see, when a life insurance loan is taken out against the policy's cash value, the cash account continues to earn interest and dividends on the entire principle balance.
This allows for a true compound interest environment, which avoids taxation on two fronts.
One, the cash value growth is not taxed while it remains inside the policy.
Two, you can access the cash value tax free by taking out life insurance loans.
Essentially, the policy will be life insurance for your child made up of the following:
Guaranteed Cash Value Accumulation
Guaranteed Level Premiums
Guaranteed Death Benefit
Tax Deferred Cash Value Growth
Income Tax Free Dividends
Increasing Death Benefit Protection
Guaranteed Cash Value Accumulation
A properly structured child life insurance policy will accumulate cash value.
The life insurance is an asset that will become more and more efficient as time goes on.
Therefore, the younger your child is when they get the policy, the more amazing the policy will be long term.
This is one of the main reasons the wealthy buy life insurance policies for their children.
There is simply NO other vehicle that can guarantee a continuous compounding return, in a safe, risk free environment, backed by the financial strength of the mutual insurance company.
Guaranteed Level Premiums
Your child life insurance premiums are level, i.e. fixed.
The premium will not change regardless of health or lifestyle.
The premium can also be designed as limited pay life insurance, so that the insurance premium payments last for a number of years, at which time the policy is paid-up.
Once the policy is paid-up, no more insurance premium payments are due.
Guaranteed Death Benefit
The death benefit face amount is guaranteed when the insured dies.
With a properly structured policy, the death benefit face amount will increase as your child ages, providing your child with the ability to create a future legacy for your children's children's children.
In other words, the policy is designed to increase the death benefit over time, so that your child life insurance policy will actually become more and more valuable as time passes.
Low Fees
One of the major knocks against whole life insurance is the fees.
Granted, this objection is usually brought to light by financial professionals who are pushing their own fee based products (can you say conflict of interest?)
However, put a properly designed whole life policy head to head with any other financial vehicles out there are you will begin to see that this objection may by many financial pundits does not hold water.
It is sad that many stockbrokers and pundits in the financial community criticize whole life insurance for young people based upon various suggestions such as "high fees" OR the time needed to realize value. They instead recommend that a young person place money in a number of the market based (tax preferred) investments touted by the financial community.  
First, startup costs are a necessary part of purchasing any asset such as real estate or funding the startup of a business.  
Second, tax deferred is arguably NOT tax preferred because your growing asset will pay taxes on the harvest later rather than the seed now.  
Third, however misguided these objections are for everyone, they are particularly flawed when it comes to kids, whose policy will have ample time to establish itself AND WILL GROW exponentially over 20+ years, making this the most powerful wealth building asset you can create for their future.
Don't take my word for it, you need to see some life insurance illustrations in action.  
Taxed Advantaged Compounding Policy Growth
The policy's cash value grows every year tax deferred based on IRC 7702.
Due to the beauty of compound interest, the principle and interest of the cash account in the policy grows at an internal rate of return which factors in a guaranteed return plus dividends.
And on properly structured life insurance policies for children, the policy's cash value continues to earn interest and dividends, even if you or your child borrows money from the policy.
That way, the compounding effect is never reduced and the cash value continues to grow and grow exponentially year in and year out!
Dividend Payments
We strongly recommend using mutual companies when designing the right whole life insurance policies for children.
These mutual insurance companies offer participating life insurance.
That means the policyholders get a return of premium in the form of dividends. These dividends can be used to purchase more paid up life insurance.
Paid Up Additions
With the use of paid up additions, the death benefit and cash value in the policy are supercharged for maximum growth.
This allows the policy to be maximized right up to the allowable limit before it becomes a modified endowment contract (MEC).
Guaranteed Future Insurability Rider
Once you have obtained life insurance for your children the policy will allow your child to increase coverage periodically, with no proof of insurability.
This is done via the guaranteed insurability rider. This optional rider provides additional guaranteed coverage if your child opts for more life insurance at specific ages and after certain life events, such as marriage and having a child of their own.
Benefits of whole life insurance for children
Starting a policy for your child at a young age allows the cash value in the policy to grow so that by the time your child is out of the house he or she will have a sizeable "personal bank" to use.
Now, as any good parent desires, you need to be involved in your kids financial education and teach your kids about how to properly use their banking policy.
This education alone will reap massive benefits for your child's WHOLE life, that is, completeness in every area of life, including an intimate understanding of money and how it works.
Your child can borrow against the cash value in the policy for purchases such as:
Education/Student Loans
Vehicles
Starting a Business
Paying for a Wedding
Avoiding Credit Cards
Retirement
Down Payment on a House
Investments
Etc.
The sky is truly the limit on what the policy can be used to fund in your child's lifetime.
However, with a properly funded whole life insurance policy and the proper education about money and finances, buying life insurance for children is one of the best gifts a parent can buy for their kids.
Recapture the Debt
One of the primary principals of infinite banking is that you need to pay back your policy loan.
It is important for parents who buy their kids this type of life insurance as a savings vehicle to familiarize themselves with the concept of recapturing debt.
Recapturing debt refers to the idea that all money has value. If you borrow from a bank, pay cash, or borrow from your policy, the money has value, which is determined by the owner of the money.
If you borrow from a bank, the bank will charge interest on the money. The bank values that money with interest so that it can recoup the principal plus additional interest, because that is the future value of that money to the bank.
When you pay cash for a purchase and you do not pay yourself back, you are actually devaluing your own money.
You are not valuing money the same way a bank does.
If a bank charges interest, you should value your own money more and charge yourself even more interest than a bank would. This is the concept of economic value added.
Finally, if you borrow from your policy (technically the company), you need to pay your policy back. And you should pay your policy back, with interest.
Why? Because you value your money.
How much do you value it? That's for you to decide, but 5% seems to be a good starting point.
Alternatives to Dividend Paying Whole Life Insurance for Children
Most grandparents choose the Gerber Grow Up Plan for their grandchildren simply because that is how they are marketed.
And the majority of parents buy life insurance on their kids as a term life child rider. The reasoning is, if my insured child dies at least I can pay for the funeral.
Child Term Rider vs Gerber Grow-Up Plan
A child term rider is an optional add on to a parent's policy that offers many benefits, including:
Available for children ages 15 days to 18-25 years old
Child rider is attached to a parents life insurance policy
The policy owner pays one flat fee to insure the children, no matter how many kids he or she has
A few basic health questions
No exam needed for the children
May be convertible to permanent life insurance up to a multiple of the existing face amount
Quick tip:
If you are going to add a child rider, consider choosing a mutual company AND the company you are choosing will be able to convert your child's life insurance to the appropriate permanent life insurance for maximum cash value growth.
Gerber Grow-Up Plan
Another popular form of children's life insurance is a policy from Gerber called the Gerber Grow-Up Plan. This is a whole life policy that builds some cash value.
Gerber Grow-Up Plan Features:
Ages 14 days to 14 years old
Choose from $5,000 to $50,000 of coverage
Fixed insurance premiums
Coverage doubles automatically at age 18
Cash value accumulation
Note: Policy loans are a whopping 8%!
Is the Gerber Grow-Up Plan a good investment?
Is the Gerber Grow-Up Plan is a good option for your kids? The policy acts as a forced savings plan. Your child can use the cash value down the road by either withdrawing the cash or taking out a life insurance loan.
The bottom line is the Gerber Plan is alright but certainly not the best.
We Do NOT Advocate Gerber Insurance or Child Term Rider as Viable Options
So now you know where we stand, we do not advocate anyone considering life insurance for children to choose either the Gerber Grow Up Plan or Child Term Rider.
Drawbacks to the Gerber Plan
The Gerber Grow Up Plan lacks many of the benefits that can be found in a properly designed cash value policy, where the focus is on maximizing cash value growth over the lifetime of the child.
In addition, Gerber's 8% loan charge when you borrow against the cash value is too high compared to other more competitive insurance providers which currently charge closer to 5%, which turns out to be a wash loan when factoring in the guaranteed rate and dividend.
A child term rider also comes up short when it comes to life insurance for kids because the rider is designed for death benefit only, with no cash value accumulation.
Future Insurability
The primary reason for adding kids to a parent's term policy as a child rider is to protect the child's future insurability. This way, if your child gets suffers an injury or disease down the road, he or she will still have a policy that will guarantee coverage and can be converted to permanent life insurance down the road.
No Debts, No Income, No Coverage
Those against life insurance for children will argue that life insurance is only for replacing lost income or covering debts, and since a child has no income or debts, he or she does not need coverage.
This is typically your uneducated life agent who has bought into the buy term and invest the difference mantra, who does not realize there are many more benefits to cash value life insurance for children apart from replacing lost wages or covering debts.
Buy Life Insurance "ON" vs Invest in Life Insurance "For"
Many people buy life insurance ON their kids AND do not invest in life insurance FOR their kids.
Conclusion
Now the first thing that we want you to understand is that we're well aware that we've just covered a TON of information.
So, don't fret, it's not like we expect any of our clients to call in fully understanding this complex topic.
Our only hope is that by going over all of this information here for you in this article for you today is for you to walk away with the understanding that there is a whole lot more you can do for your child with a life insurance policy than simply cover the cost of a burial in the event that something horrible happens.
And by knowing this, many folks who might not be comfortable shopping for a life insurance policy on their child can begin to understand that what they are actually doing in many cases is actually shopping for a financial instrument or tool that can be quite helpful to them throughout their life!
So, why not take a moment and give us a call and give us a moment or two to let us go over what options might be available to you and your child and see if any of it makes any sense, it could be one of the best financial decisions you make for you child!