Fire your Banker, Bypass Wall Street, and Take Control of Your Own Financial Future
– that's a pretty powerful sub-title. Does the book deliver on it's promise? Pamela Yellen uses that sub-title for her latest book titled The Bank on Yourself® Revolution – a book that is essentially a rather pointed attack at Wall Street and the status quo of financial planning.
Bank ON Yourself® Review NOTE: I found the book relatively easy to read and filled with excellent facts and information — but ultimately it came across as one long sales pitch for her advisor group.

While it's true that Yellen writes in a style that is enjoyable to follow, every few pages there seemed to be a link that requested more information (in the e–book format). What Yellen has to say in the book is very accurate, and the service she is selling may actually be truly excellent. I just wish it had been presented without the constant sales approach.
Bank on Yourself Review
If you head over to Amazon to get an idea on the book, you will find that a majority (70%) of the 131 Bank on Yourself reviews give the book 5 stars. However, about 15%  of the Bank on Yourself reviews offer 1 star.  That is quite the disparity and makes you ponder why such a variance.
I believe it ultimately comes down to people not understanding the concept behind Bank on Yourself, not liking her sales approach, or financial advisors who push alternative products not happy with the attention her book is getting.

Is Bank On Yourself a Scam?
It is easy enough to dismiss any ideas that are outside of the mainstream as a scam. Bank on Yourself is no different. Many people, particularly those whose livelihood is at stake, can get away with calling Bank on Yourself a scam. And unfortunately, most people who hear that will simply dismiss BOY and get back line with the other sheeple.
As with most ideas outside of the mainstream, Bank on Yourself is an idea, a strategy or a concept that challenges the status quo and causes many to unleash their fury upon it for fear that someone might actually take the time to figure out what BOY even is.
So that is what we will do for anyone who has the perseverance to get through the following thousand words or so. We will discuss what Bank on Yourself is and why it is certainly not a scam, but a tried and true strategy for wealth building.
Banking on Yourself has Come of Age
In the first chapter of the book, Yellen provides a tremendous amount of evidence to support her notion that Wall Street investors are in serious trouble when it comes to retirement. Yellen released her first book titled "Bank on Yourself" in 2009 right in the midst of the Great Recession. The book hit home with all those that lost a chunk of their portfolio in the crash.
The Bank on Yourself Revolution is a follow-up to that book, but it has just as many stories of loss and failure as the first. In fact, Yellen is convincing in her argument that much of the foundation for the original market collapse still exists and is continuing as if nothing ever happened. In other words, the risk for market collapse is as real as it ever was.
The thrust of the book is that a properly structured life insurance plan can provide the security, and returns, necessary for a stress free retirement. Bank on Yourself life insurance companies are going to be mutual life insurance companies.
She is a big advocate of mutual insurance companies vs stock companies for the simple reason that mutual companies focus on the best interests of policyholders, rather than stockholders.
And she answers the typical critic of the LIRP life insurance retirement plan as follows:
Properly structured, the policies I'll show you grow cash value as much as forty times faster than the ones Suze and Dave, et al., talk about. They pay the advisor or insurance agent 50– 70 percent less commission. And you can use them as a powerful financial-management tool right from the start to fire your banker, bypass Wall Street, and have financial security for life.
Yellen calls this movement of people, abandoning the typical Wall Street advice, a "revolution" but she acknowledges that she didn't start it. And she's absolutely correct. The LIRP has been around for a long time, and it's something that J.C. Penney, Walt Disney, and Ray Kroc all used to finance their businesses.
But Yellen is right to call the movement a "revolution" because the trend for the past 30 years has been in favor of Wall Street. According to Yellen, times are changing.
Yellen attempts to answer the following financial concerns in the book:
Worried about having enough money to retire?
Afraid that you've started too late?
Anxious about how you'll pay for your children's college education?
Nervous about having too much of your nest egg on the roller coaster we call Wall Street?
Disgusted with the poor results your investments are producing?
Uneasy about the economic landscape your children will be entering?
Concerned about how your children will be able to make it financially?
Stressed about finding the capital you need to start your own business or keep your business going?
Feeling strangled by credit card debt?
Or trying to avoid piling up debt in the first place?
Feeling strapped because you've retired but your nest egg isn't earning enough income for you, and you'd rather not take more risk with your money?
Wall Street is a Poor Investment Partner
In the wake of the financial crisis, the Federal Reserve publicized a survey in 2010 that "revealed that the net worth of U.S. families had been reduced to a level not seen since 1992." Such a tragedy for so many families. Yellen proposes that real wealth and financial security are a result of steady and predictable growth – regardless of the economic environment or situation.
As of 2015 the market had bounced back from it's 2008 lows, but how did it actually perform for those that were in it for the long haul?
[In] the nearly 16 years since the start of the century, the S& P 500 has had an overall return of less than 2% per year.
This result is obviously horrible. But Yellen points out that the reality is even worse, because inflation averaged 2.3% during that same time period.
In other words, the broad market performance adjusted for inflation is actually negative for the first 15 years of the 21st century. Oh, and don't forget the fact that this is NOT accounting for fees, commissions, or taxes. So it's even worse than that.
Since 1929 we've had three market crashes where the Dow took between sixteen and twenty-five years to return to pre-crash levels.
Are Mutual Funds the Wise Choice?
And for those that think mutual funds are the answer because Dave Ramsey told you they were the best way to save, here's a little fact for you: In the last 3 decades, the average mutual fund investor has earned 3.79% annually. If you recall the inflation rate mentioned above, you'll recognize the implication that mutual fund investors are averaging just about 1% annually adjusted for inflation.
Throughout the book Yellen does a good job of predicting the retorts that might come back from those that can't believe what she's saying. In response to the data above she answers well with the following quote from John Bogle, the founder of the worlds largest mutual fund company, Vangard.
Bogle stated, "No mutual fund has yet reported on the returns that it actually earned for its investors." He explains why as follows: "Fund investors do not earn the full market return … because fund investors incur costs, and costs are subtracted directly from the gross returns funds earn."
Bogle is saying that typical investor returns are not reported by the mutual funds. They only show the return of the fund prior to fees and commissions. And of course that return is going to be taxed as well.
Taxes are a big deal as any savvy investor will tell you. Perhaps you've been thinking about investing in gold because you don't like all the money printing going on, and you're worried about a collapsing dollar. Did you know that precious metals are considered a collectible? Has anyone ever warned you that collectibles are taxed much higher than real estate capital gains or stocks?
Retirement Accounts: Are they Working?
"I have enough money to live comfortably for the rest of my life— if I die by next Tuesday!"
Yellen brings up some good statistics that showcase the trouble American workers are facing as they approach retirement.
According to the latest available data from the U.S. Census Bureau, the average value of 401( k) accounts of pre-retirees between the ages of fifty-five and sixty-four is only $ 170,645, and the average value of their IRAs is only $ 147,345. And half of all those close to retirement age have less than $ 50,000 in these plans.
Even those that are primarily responsible for the 401k think that it's time to throw it out. Ted Benna, the "father of the 401k" because he found the IRS loophole that would transform the way Americans save for retirement, says that the 401k "monster is out of control … . It is far beyond what most participants were able to deal with … . We're throwing tons of money away trying to teach participants how to become skilled investors … but it just hasn't worked … . I would blow up the system and restart with something totally different."
All this to say that the traditional 401k is not delivering as many expected. And IRA's didn't perform much better either. And for those that think the IRA might be a good alternative, Yellen points out that you can't borrow from your IRA. If you attempt to do so, the "plan custodian will tell the IRS, and the value of your entire IRA immediately becomes taxable. Even using your IRA as collateral for a loan triggers taxes."
Why Should I Fire My Banker?
Yellen spends the last two-thirds of the book discussing the benefits of a properly structured LIRP. Yellen showcases that you can actually borrow against your policy cash value – a unique feature compared to the typical IRA. She mentions the fact that your policy cash value can grow even when you borrow against it.
She also talks about the nuances of non-direct recognition loans.
…a handful of companies offer what are known as non-direct recognition loans. With one of these loans, the insurance company doesn't recognize that you took a policy loan when they dole out the dividends. If you don't have a non-direct recognition loan, they'll pay you a different dividend on that portion of your cash value that you borrowed against.
Yellen also showcases that these types of retirement plans can help individuals finance a whole host of things – college education, cars, small business expenses, entrepreneurial efforts, etc..
Business Owners and Professionals
The properly structured life insurance policy, aka LIRP, or cash value life insurance, can have much needed benefits for small business owners or professionals. Yellen mentioned a 2009 study that showed 55% of small employers tried to obtain credit and more than half failed.
What's surprising is that one-third of the business owners that attempt to renew existing lines of credit are rejected. With a cash value life insurance policy, the policy owner can borrow against it for any reason whatsoever. No application is needed.
For anyone considering key person insurance or setting up a buy sell agreement, using the principles in Bank on Yourself can help you in many different ways, with one of the biggest being the ability to loan your business money on your terms. You can then have your business pay you the interest, rather than take a loan from a bank, where the bank reaps all the profits.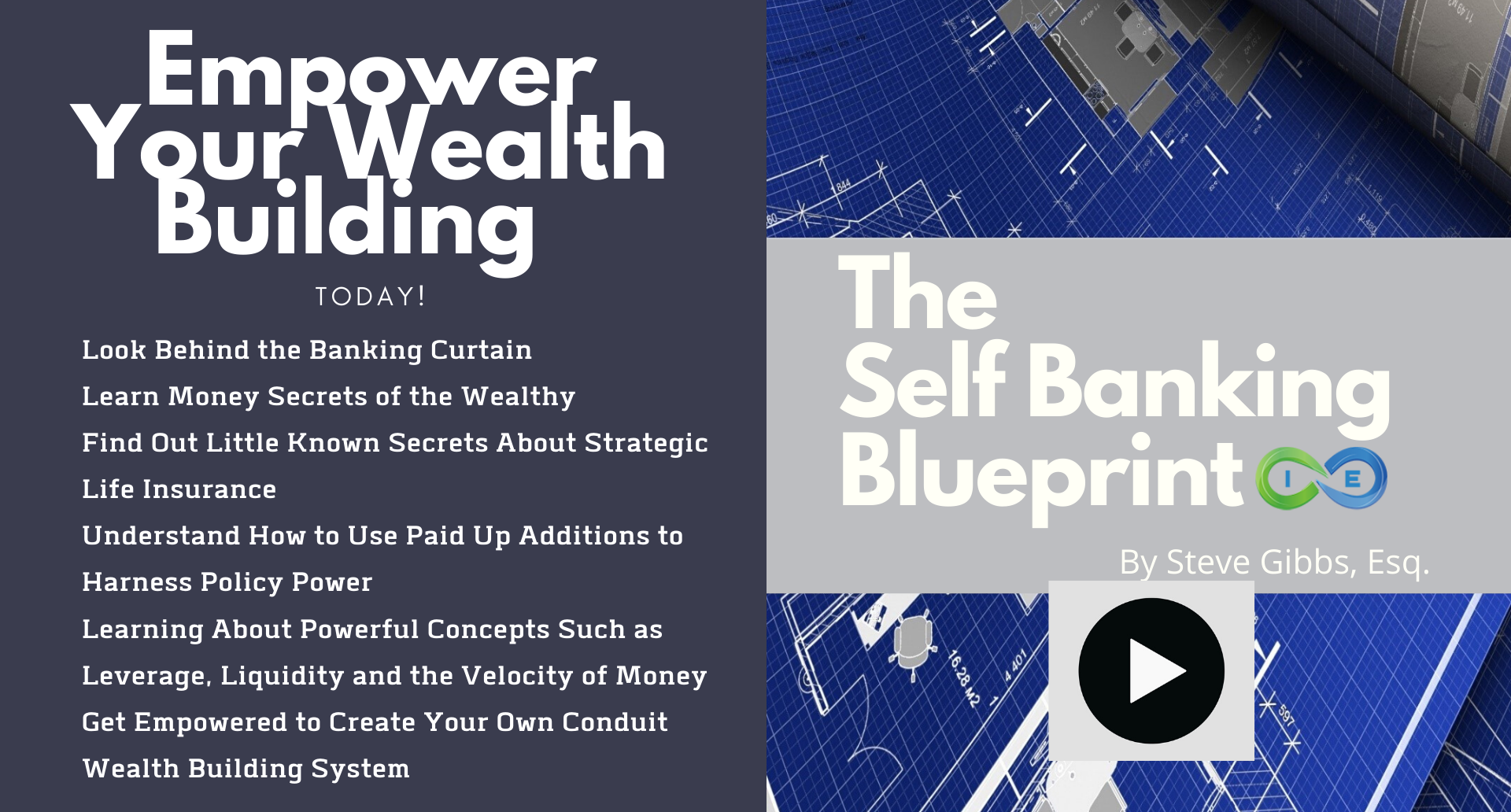 So, Is Bank On Yourself a Scam?
Bank on Yourself is Pamela Yellen's version of Nelson Nash's Infinite Banking Concept, with her own personal twist. Bank on Yourself is certainly not a scam and it is a fine introduction for anyone looking to recover their finances and become their own banker, rather than rely on Wall St.
For those familiar with the LIRP, or Infinite Banking, or cash value life insurance, you may already know enough about the benefits to make this book just more of the same. But for those that are just getting introduced to the flexibility, security, safety, and guarantees that come inside these plans, it's a solid read that will provide plenty of solid information.
As always, if you're looking at your finances and feel overwhelmed, or just want some solid alternatives to choose from, we'd love to help. Contact us today and get your free evaluation.